Theme parks have become super popular around the world, especially the two big ones Disney and Universal. Disney used to be unmatched in terms of their theme parks, nothing else really came close. Until Universal Studios opened The Wizarding World of Harry Potter in 2010 and became a serious challenger for Disney. This ignited what became known as the theme park wars between Disney and Universal, both in a constant battle to get the attention of park goers. Lately, the way Universal and Disney have been getting people excited is with their entertainment brands coming to the park. Disney has Toy Story, Star Wars, Avatar, and soon Marvel, while Universal has Harry Potter, Transformers, Jurassic Park, Fast and Furious, and a whole new park opening 2023 in Orlando. However, there are still a lot of movies out there that would be perfect for a theme park land or ride and haven't gotten them yet. This is a list of the top 10 movies that deserve theme park attractions. Now some of the brands on this list are featured in theme parks but on a much smaller scale, not to the extent that Universal or Disney could provide.
10. Planet of the Apes
Disney just recently acquired 20th Century Fox and they should definitely take advantage of that in their theme parks. The Planet of the Apes reboot trilogy was extremely successful and would make for a great theme park ride, or possibly even land. Now there is a Planet of the Apes attraction in development at Fox's planned theme park, but after the acquisition, that whole ordeal is up in the air. And besides, Disney could really do something unique here, and this more adult brand would add some edge to the family-friendly park.
9. IT
Both IT movies were pretty successful and could make for a great and unique theme park experience. This would, of course, have to go to Universal Studios because of their relationship with Warner Bros, and this ride would be way too adult for Disney. There is no ride in either Disney or Universal that uses jump scares to scare riders, this could be the very first. Imagine a ride similar to Universal's Transformers or Spider-Man ride, but with updated technology and a horror twist. Some would say it would be too intense as Universal is also filled with families. However, around Halloween haunted houses where actors jump out and scare people are very popular, even with younger children. It would definitely be a risk, but if it worked, it could be a huge hit for Universal.
8. Godzilla
It's strange that a Godzilla ride has not been made yet seeing how it really is perfect for one. Universal already has a King Kong ride in their Islands of Adventure theme park that is extremely popular and has one of the longest wait times in the park. However unlike their Kong attraction, Universal should definitely base the ride off of the current movies. This ride could potentially be a trackless ride similar to Rise of the Resistance. Maybe the ride could focus on escaping a Monarch base and it could feature cameos from characters in the movies. A Godzilla ride would be a guaranteed hit for Universal and there's a lot of possibilities when it comes to the ride itself.
7. Star Trek
What better way for Universal to combat Disney's Star Wars Galaxy's Edge than with a Star Trek-themed land or attraction. Now it could be seen as a Star Wars land rip-off, but if the rides are really good, then it could end up really working out. The only Star Trek ride that currently exists is a poorly themed roller coaster in Germany, so Universal can really claim ownership of the brand. There were already rumors that Universal was looking to open a Star Trek themed hotel, so clearly there's interest in the property. Also, there are a ton of possibilities when it comes to making rides based on Star Trek, they could maybe even have multiple rides. Universal doesn't have any space-themed attractions yet so this could definitely help the park.
6. Jumanji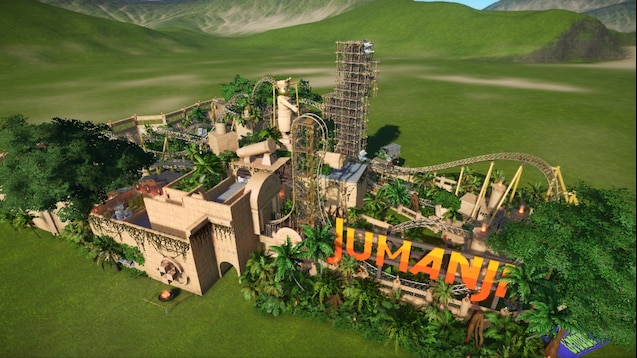 Both Jumanji reboot movies have done great at the box office and they are perfect for a theme park attraction. Now I could see this going to either Disney or Universal since Sony has relationships with both of them. This would fit perfectly in Disney's Animal Kingdom, but I'm sure Universal would find space for it as well. Jumanji is a brand families love and would certainly attract many people at the parks. The movies are fun jungle adventures and it would be great if people could go on that adventure as well. Dwayne Johnson would definitely be on board and could even cameo on the ride. There's a lot of different approaches they could take but one good could be similar to Hagrid's Motorbike Adventure, which is currently Universal's most popular ride.
5. James Bond
James Bond is a timeless brand that surprisingly does not have a theme park attraction. Now the one big hurdle that stands in the way is the actors, no one actor is James Bond and there will forever be new actors taking up the mantel. The ride could seem outdated before it even opens, not to mention everyone has their own favorite Bond. However, if they can figure a way around this by possibly featuring multiple actors or no actors, the ride could be really cool. The brand will never go out of style and would certainly get people excited. The ride would also add a sense of nostalgia because of its classic nature, which would be a nice change of pace, especially from Universal's screen heavy rides.
4. Wreck-It Ralph
Disney has featured a lot of their animated brands in the theme parks such as Frozen, the Disney princesses, and soon Zootopia. And since Wreck-It Ralph is a franchise, it should definitely have an attraction at the theme parks. The world-building is so good in the movies it would be great to experience that world in real life. One clear direction Disney could go in could be a racing-style ride because racing is featured in both of the movies. This ride would also give Disney the opportunity to show off their technical skills as it would be a very technology-heavy ride. Wreck-It Ralph is a fantastic brand that definitely deserves an attraction in the Disney theme parks.
3. Hunger Games
Hunger Games is an extremely lucrative brand that would be an exciting addition to any theme park. This honestly could come close to the Wizarding World of Harry Potter if done right, since both the books and movies were such a phenomenon. Now, there are Hunger Games themed rides in a theme park in the Middle East, but again not at the level that Universal could do. Paramount already has a good relationship with Universal as the Transformers ride is very popular. Hunger Games really should have its own land with multiple rides, and maybe with the right amount of money, Jennifer Lawrence could pop up throughout the rides. The brand is popular with kids and adults alike making for the perfect theme park audience. Hunger Games land would certainly attract all kinds of fans to the park and could offer some great rides.
2. The Hobbit / Lord of the Rings
The best chance Universal Studios has at recreating the success of the Wizarding World of Harry Potter is with the Middle-Earth brand. Universal has long been rumored to be developing a Middle-Earth land and it is even reported that Universal has the rights to it. So really, what's stopping them? Just like Harry Potter, the Middle-Earth brand has a lot of fans and has been featured in movies, books, and soon to be streaming. It is a timeless brand that will possibly be popular forever. The movies also featured locations that could easily be made in theme parks such as The Shire. New Zealand has garnered a lot of tourists because the movies filmed there, so just think of how many people would flock to a Middle-Earth land and ride on the rides. If Universal went all out in theming as they did with the Harry Potter brand, a Middle-Earth land could be very popular.
1. DC
Now there is a DC world with themed rides in a Middle Eastern theme park, but it really does not live up to the potential. It is in an indoor theme park, the rides are not well done, and it isn't even themed to the movies. Disney just revealed their plans for a Marvel land based off of the movies, so it's time Universal hits back with DC movie rides. Universal does have a Marvel land, but not themed to the movies. The most successful theme park rides such as Star Wars, Harry Potter, and Avatar are connected to the movies. Imagine rides based off of Gadot's Wonder Woman, Robbie's Harley Quinn, Ezra or Grant's Flash, Momoa's Aquaman, Levi's Shazam, and maybe even Pattinson's Batman. Just think of the wait times for those rides, they would be off the charts. The rides could have a lot of variety, and since the DC brand is so robust, there would be something for everyone to enjoy.
What movies do you want to have theme park attractions? Let us know in the comments section of our website or on our Twitter & Instagram accounts.