Coming this summer you can enter the world of Marvel, meet your favorite heroes, and go on some awesome adventures! This land will join other popular brands such as Star Wars, Toy Story, and Avatar to get featured in the theme parks. Sadly it is not coming to Florida in the near future because of Universal Studios' deal with Marvel. Avengers Campus will open July 18th in Disneyland's California Adventure Park. Here is a full breakdown of everything you can expect to see in the land this summer.
The land is where the old Bugs Life area was, and is considerably smaller than Galaxys Edge. Avengers Campus is built off of Guardians of the Galaxy- Mission Breakout and features a number of cool buildings. The centerpiece is the Avengers headquarters which is homed to a gift shop and will house the future Avengers ride. The other buildings will be recognizable and will feature a number of cool easter eggs.
Ant-Man and The Wasp will also be getting in on the action with the Pym Test Kitchen. There will be smaller eatery locations but this is the main restaurant for the land. It is designed to look like a Quantum Tunnel and the foods are served either sized up or sized down. This will make for a super unique experience along with some great photo ops. Non-Alcoholic as well as alcoholic beverages will be served which will also feature fun themes.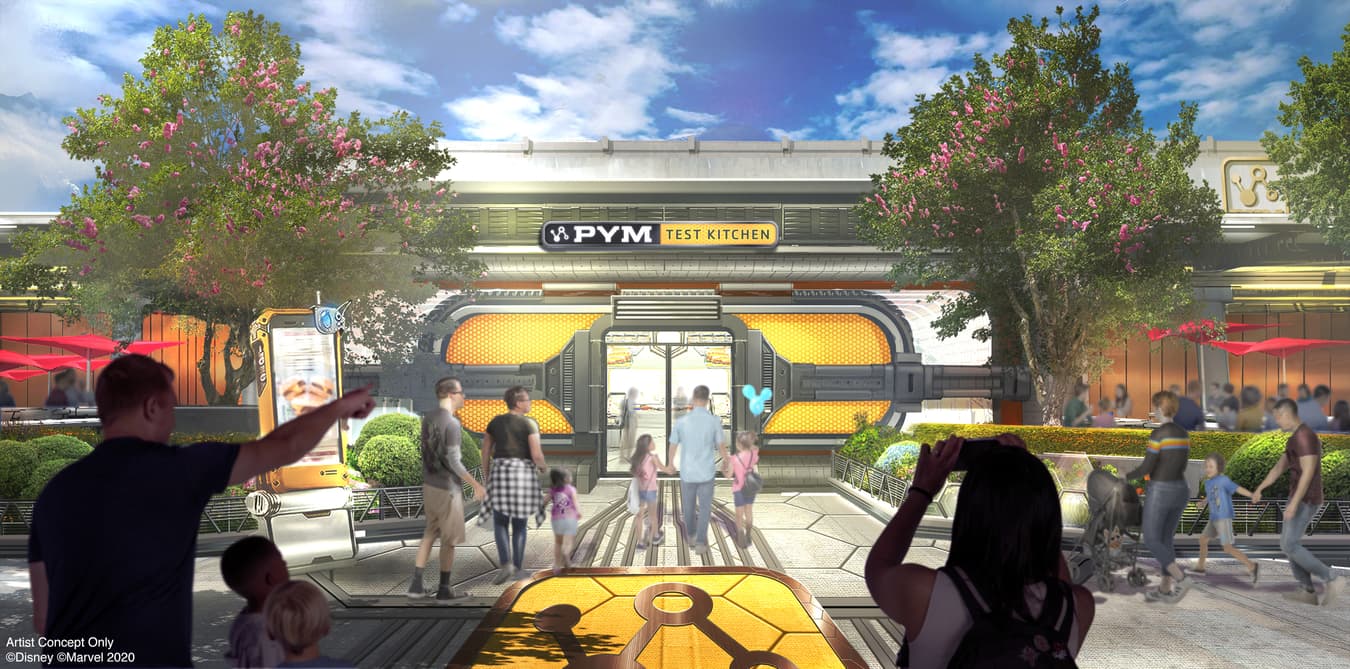 If you are looking for an exciting live experience, Doctor Strange has you covered. Off the beaten path, you can find an overgrown sanctum. This will be homed to a Doctor Strange live magic show. It will be outdoors and almost looks to be like a street performance in the city. It is unclear what exactly the show will feature but I'm sure it will be mind-bending.
Of course, there will be plenty of Marvel characters roaming the land. Guests will be available to meet Iron Man, Spider-Man, Black Widow, Black Panther, Okoye and the Dora Milaje, Ant-Man, Wasp, Doctor Strange, Groot, Gamora, Star-Lord, Captain America, Captain Marvel, Thor, and Loki. And since Marvel heroes are only half of it, the villain Taskmaster will also be around showing off his impressive fighting technique. Having all these characters around will provide a truly immersive and fun experience.
Avengers Campus will take place in phases just the MCU movies. The first phase will only consist of two rides, the already existing Guardians attraction, and the new Spider-Man attraction. This will be the only ride available when the park opens, but it does sound like a good one. It will be a 3-D ride similar to rides at Universal Studios such as their Spider-Man attraction, and rides like Transformers and Escape From Gringotts. Tom Holland will be featured in the ride, along with possible other character appearances. The ride will follow Holland's Spider-Man giving you a tour of his W.E.B facility, but of course, things will go wrong.
The second phase will feature an Avengers ride housed in the Avenger's facility. This will a ride similar to Fight Of Passage and will put you smack in the middle of an Avengers showdown. Judging by the concept art characters like Captain Marvel, Hulk, and more will be featured in the ride. Also, it was just announced that at some point in the future the land will include a Black Panther ride which sounds very exciting.
Are you excited for Avengers Campus to open this summer? Are there any characters you would like to see get their own attraction? And are you disappointed this land is not coming to DisneyWorld? Let us know in the comments section of our website or on our Twitter & Instagram accounts.