With superhero movies being all the rage these days, most actors are dying to get their hands on a big comic book role. However, some actors have been reluctant to join the superhero genre. With big names like Joaquin Phoenix, Angelina Jolie, Natalie Portman, Jake Gyllenhaal, and more, all landing major comic book roles, no actors are really off the table. It has also been proven to be a big career boost for many actors. So here are 10 actors we would like to see in a superhero movie.
10. Sandra Bullock
Sandra Bullock is one of the few movie stars left. She has the ability to consistently bring in big returns at the box office. She is also coming hot off her Netflix film Bird Box, which was nothing short of a phenomenon. Her resume is also quite extensive, with projects ranging from action to horror. However, she has never been in a superhero movie. Now while she may be on the older side, if Nicole Kidman and Cate Blanchett can play major roles in comic book movies, she surely can as well. It may be too late for her to play the lead, but she would be a welcome addition to any superhero movie cast.
9. Taron Egerton
Taron Egerton became an instant fan favorite with his work with the Kingsman franchise. While that may technically be a comic book property, he has still never been in a superhero movie. Furthermore, his role in the Elton John movie Rocketman proved that he is certainly a great actor. Egerton has a ton of charm and he can handle large action sequences. Many fans have already been fan-casting him in roles like Hal Jordan and Wolverine. Heres hoping we get to see him dawn a superhero suit soon enough.
8. Noami Scott
Noami Scott's star really blew up in a short amount of time. One minute she was in a failing Power Rangers movie, and the next she was starring in the new Aladdin remake and a new Charlies Angels movie. However, it seems her star may have burned bright and fast as she has no new movies on the horizon. That being said, it's the perfect time for her to join a superhero franchise. She is the perfect age and has a large fan base because of her work with Disney. Scott also has a very fierce look and would kill it as a superhero.
7. Brad Pitt
It's no secret that Brad Pitt has had a tough time lately. Yes, while the tabloids love him, most moviegoers still do as well. Furthermore, Pitt has had quite the comeback in 2019, first with Once Upon A Time In Hollywood, and now with Ad Astra. And there's no better way to solidify your comeback, than with a big superhero movie. With Angelina Jolie getting in on the superhero action, now is the perfect time for Pitt to do the same. It may be too late for him to lead, but he would be an excellent supporting character, or maybe even a villain.
6. Emily Blunt
Now there is no denying that Emily Blunt would make a perfect superhero, however, the real question is would she want to do it? Blunt has already been offered several major superhero roles, she was first offered the role of Black Widow, and then Captain Marvel, but on both occasions, she turned them down. Fans are dying to see her and her husband John Krasinki lead a Fantastic Four movie. She is one of the best female action stars, and she is at the height of her popularity. Her resume is very extensive, all that's left is a superhero movie.
5. Rebecca Ferguson
Rebecca Ferguson has been trying really hard to become a true Hollywood star. Besides her work in the Mission: Impossible franchise, she has never really been able to bring in box office dollars. Despite being very talented and staring in big projects such as Doctor Sleep, The Greatest Showman, and Men In Black, her star never quite materialized. However, she has a number of big projects on the horizon, and a superhero movie could finally get her the star status she deserves.
4. Rami Malek
Rami Malek was the huge breakout star of 2018 thanks to his amazing turn as Freddie Mercury in Bohemian Rapsody. He won a ton of awards including the Oscar for best actor. Malek's star is quickly rising as his next big role is the villain in the new James Bond movie. It's the perfect time for Malek to capitalize on his star power by staring in a superhero movie. He's the perfect age to carry a franchise and he is extremely likable. Also, he certainly does not turn moviegoers away as Bohemian Rapsody made almost a billion at the box office.
3. Charlize Theron
Charlize Theron, perhaps even more than Blunt, is an action tour de force. Starring in projects such as Mad Max: Fury Road, Atomic Blonde, Fast and Furious, and more, she is a true action star. Charlize also has an oscar along with a ton of other awards. Just like Blunt, she also turned down the role of Captain Marvel, but people are still dying to see her in a superhero movie. Many fans want her to play the villain Veronica Cale in the Wonder Woman movies, particularly because she and director Patty Jenkins have a very good relationship.
2. Daisy Ridley
Daisy Ridley became an overnight sensation playing Rey in the Star Wars sequel trilogy. And while parts of that trilogy were rocky, Ridley's acting was never really part of the problem. Now that her Star Wars days are over, it's about time for her to trade her lightsaber for a super suit. Ridley may be relucent to join another big franchise, however, she would make a perfect superhero. Plus, the character of Rey became huge with little girls and women alike, and a large part of that is thanks to Ridley. Fans have already been quick to suggest her for roles like Barbra Gordan and Spider-Woman. While she is developing an original superhero movie for Netflix, fans really want to see her play a Marvel or DC character.
1. John Krasinski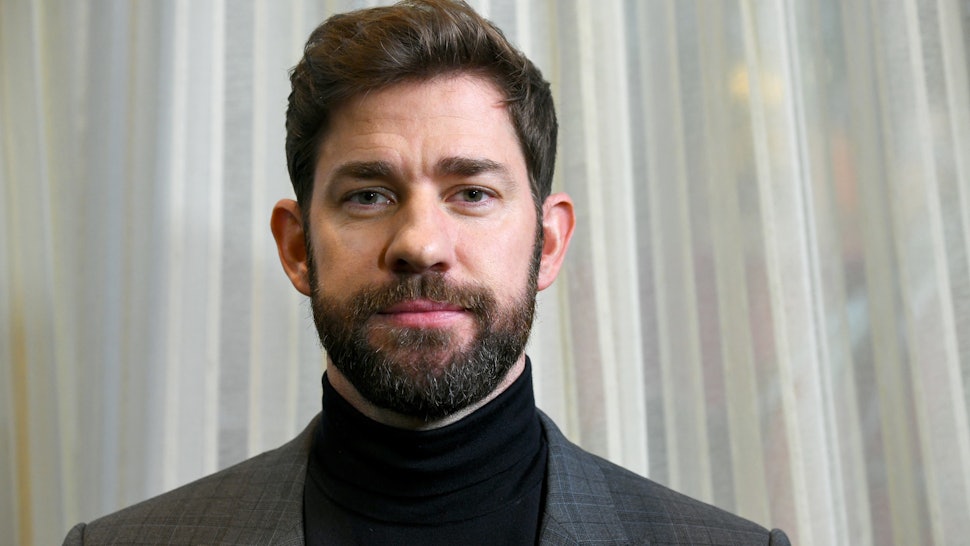 Perhaps most of all, fans have been dying to see John Krasinski get his hands on a superhero role. Krasinski just screams superhero, from his rugged appearance to his charming and likable personality. He was originally up for the role of Captain America however it didn't work out. Krasinski would make the perfect Mr. Fantastic, whether Blunt co-stars or not. Fans also suggested him for roles like Hal Jordan, MoonKnight, and even Batman. Furthermore, Krasinksi has stated that he would like to star in a superhero movie. He wants it, fans want it, let's just make it happen already.
What did you think of our list? Let us know in the comments section of our website or on Instagram & Twitter.